The Sprinternship™ in Partnership with American Express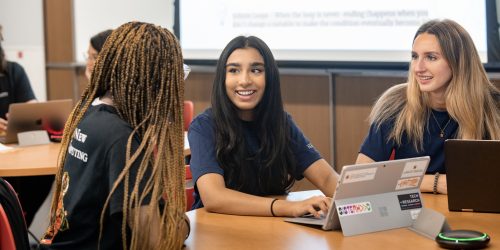 Break Through Tech x American Express
Overview of Program

The Break Through Tech Sprinternship™ in partnership with American Express is a quick 3-week, (hence the sprint!) immersive, paid micro-internship that can put you in the running for a future paid summer internship at American Express. Sprinternships™ are run by Break Through Tech, and are designed to provide college women (trans and cis), nonbinary, and other underrepresented groups in tech with work experience and a tech-industry résumé credential. The Sprinternship™ will help you learn more about technology roles, join a cohort of similar students, and build your network of tech professionals, all while learning if American Express is a great fit for your next career move.
How it Works
3 Week Virtual Micro-Internship
You will work full-time as a virtual intern for 3 weeks – January 3-20 as part of a team at American Express.
Work in a Team
As part of a team of 3-5 student Sprinterns™ from other colleges, you will work collaboratively on a challenge project. The project parameters and expectations will be determined by American Express.
Get Paid through American Express
You will be paid 27$/hour for your contributions to the American Express team.
Inside the Program
Prep Workshops
If this is your first time working in a tech office, we have you covered. We will prepare you for your Sprinternships™ through workshops on December 3 & 4 that cover resume writing, making a great elevator pitch, professional goal-setting, understanding organizational culture, working in teams, tech project management, and common software tools.
Sprinternship
Challenge Project
Your team will receive a challenge project to work on throughout your Sprinternship™. You'll have the chance to collect background information, size up the problem, come up with a creative solution that uses technology, and pitch it to the leadership team.
Immersion into American Express
You will be welcomed as a full member of the American Express team. Knowing about the inner workings of a business or organization can help you think about the career paths that might be in your future. You will meet with a range of internal departments within American Express and learn about what people do and how they work together.
Final Presentation
At the end of your Sprinternship™, you and your team will present your challenge project to senior leaders and engineers and get the opportunity to show off your solutions or products.
After the Sprinternship
Successful Sprinterns™ will be invited to intern in the American Express office, 3151 W Behrend Dr, Phoenix, AZ, (relocation expenses provided if applicable) for Summer 2023.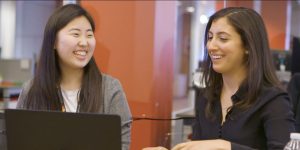 Who Should Apply
Female-identifying and non-binary student are invited to apply.*
Applicants should be enrolled in a bachelor's or associate's degree program in an accredited US university and enrolled in or planning to major or minor in Computer Science, or related discipline. You should be in good academic standing
(2.5+ GPA)
and on track to graduate by May 2024.
Applicants should have a demonstrated ability to write and review code including familiarity with Python and Java. Familiarity with React and the basics of building in the cloud is preferable.
Employment eligibility to work with American Express in the U.S. is required as the company will not pursue visa sponsorship for these positions. Candidates must also be willing to relocate to Phoenix, AZ for the summer internship and potential full time offer.
*We also welcome allies dedicated to gender diversity in tech – students in other underrepresented groups (Black, African American, Hispanic/Latinx, Indigenous, low-income, non-traditional, and first-generation college students) are welcome to apply.