Get Involved
Join us to make gender equality a reality in tech across the nation.
Get involved with Break Through Tech.
Engage with our students.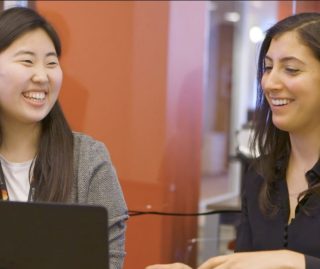 Host a team of Sprinterns™
Teams of Sprinterns™ are placed in your company for 3-week, paid micro-internships — critical experiences to have on their resumes.
What you'll do:
Develop a three-week technical challenge project for a team of five Sprinterns

™

Develop networking or mentorship programming to teach our students about your company
Stay in touch — many of our Sprinterns

™

go on to intern or work for their former host organizations!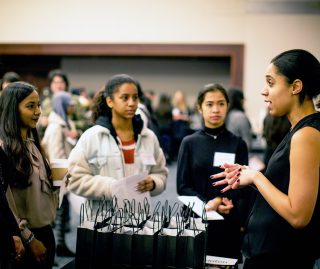 Mentor our AI students
Our students benefit from women mentors in the field to cultivate their leadership and network. Mentor a small cohort of students to prepare them to begin their careers in machine learning and AI.
What you'll do:
Facilitate curriculum-based mentorship program to a small group of 4-5 students
Complete 9 meetings over 9 months from August 2022 to April 2023
Complete some offline review and feedback of student portfolio artifacts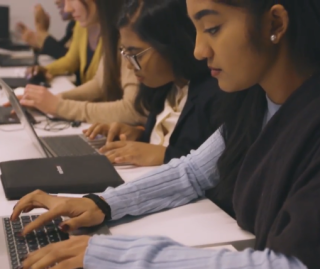 Submit an AI Studio Project Challenge
Offer up a real-world machine learning project challenge and a volunteer advisor from your company so that students can learn in real time and build their portfolio toward launching a career in tech.
What's involved:
Your company identifies an employee volunteer with AI/ML expertise to submit a challenge.
If their challenge is accepted, the employee is onboarded as an AI Studio Challenge Advisor and matched with a team of 4-5 students. (In New York, each project will be assigned to two teams, and companies will be asked to provide a Challenge Advisor for each team.)
The Challenge Advisor provides guidance to their team throughout the fall – meeting virtually every two weeks to answer questions and share feedback – and convenes an audience for the students' final presentation in December.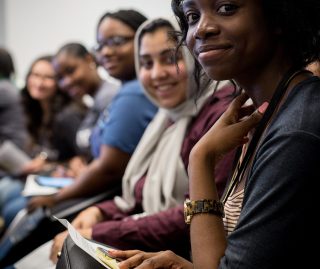 Hire our students
Our programs teach real-world tech skills — interview our students for open internship or full-time positions across the country.
What you'll do:
Share relevant internship or full time opportunities with our students
Host an information session or technical workshop for our students
Participate in Break Through Tech's virtual career fair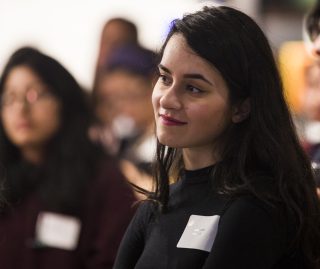 Coach a Guild cohort
In just one week, help get first-year undergraduates excited about computer science and a tech career. Provide a group of product coaches to work with teams of students designing and developing their first "app."
What you'll do:
Work with students just testing the water of computer science in a quick, introductory program
Showcase careers that utilize a computing education
Serve as mentors and role models for undergraduates new to computing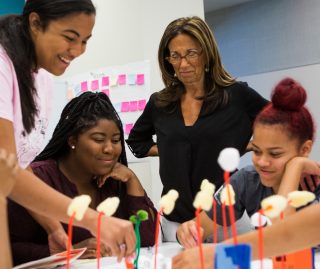 Fund our programs
Our innovations are made possible by the support of generous funders.
Make a gift here