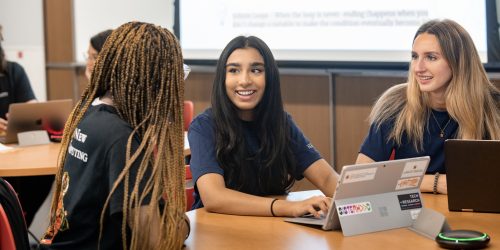 Sprinternships™ are Break Through Tech's flagship micro-internship program.
Break Through Tech's Sprinternships™ are a must-have for any company serious about increasing gender equality in tech. They are a proven, innovative, low-risk way for you to fill your internship program and entry-level tech talent pipeline with women from diverse racial and socioeconomic backgrounds.
Bring Sprinternships™ to your company
Over 125 companies have chosen to host Sprinterns
™
, and student demand for the program continues to grow. If you're interested,
we'd love to talk
.
Watch our reel about Sprinternships™
Register for an info session to hear directly from our Site Directors: What does it take for employers to host a Sprinternship™? How have other employers benefitted from hosting Sprinterns™?
Employer Info Sessions: Sprinternships™ Overview
Employer Info Sessions: Chicago Sprinternships™
Employer Info Sessions: Florida Sprinternships™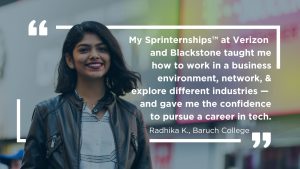 All Sprinternships™ are built around several common features: Students work in collaborative teams of 5 peers, they tackle a real business challenge posed by their host company, and they are immersed in the host company's culture and operations; All together, the Sprinternship™ experience strengthens students' professional networks and connections in the tech community and gains them a résumé credential and the real-world experience students need to land a summer tech internship.
How do you build a three-week program schedule?
What does a challenge project look like?
Sprinternship™ Challenge Summaries
As seen in:

"I gained paid, practical experience in just three weeks. It was invaluable in helping me land a summer internship."
– Starasia Wright, she/her, Break Through Tech Alum and CUNY Hunter College Graduate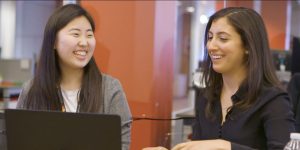 Offered in three-week sessions during the academic recess (January in DC & New York and May in Chicago & Miami), Sprinternships™ cannot operate without continued partnership from leaders in the industry.
Recruitment for Sprinternship™ employers in New York and DC begins in the spring, and recruitment for Sprinternship™ employers in Chicago and Miami begins in the fall. Interested, but missed this year's window? Our team is ready to hear from you during any season.
Interested in getting involved? We'd love to hear from you!