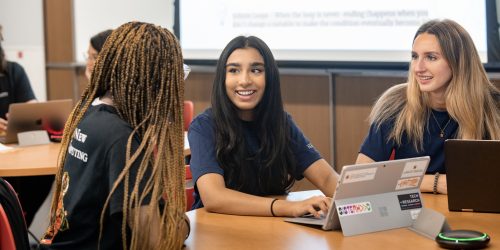 Sprinternships™ are Break Through Tech's flagship micro-internship program.
These quick and immersive paid internships give undergraduate students work experience and a tech-industry résumé credential that can help them land their first summer tech internship. Sprinternships™ are customized by the organizations that host them, so each experience is unique.
Don't take our word for it — check out previous Sprinternship™ hosts, who make the program great year after year.
See past Sprinternship™ hosts.
Register for an info session to hear directly from our Site Directors: What does it take to host a Sprinternship™? What are the expectations to brining a team of Sprinterns™ to your organization?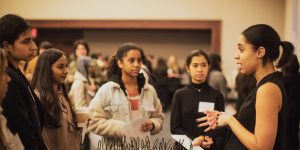 All Sprinternships™ are built around several common features: Students work in collaborative teams of 5 peers, they tackle a real business challenge posed by their host company, and they are immersed in the host company's culture and operations; All together, the Sprinternship™ experience strengthens students' professional networks and connections in the tech community and gains them a résumé credential and the real-world experience students need to land a summer tech internship.
What does a challenge project look like? How do you build a three-week program schedule?

"I gained paid, practical experience in just three weeks. It was invaluable in helping me land a summer internship."
– Starasia Wright, she/her, Break Through Tech Alum and CUNY Hunter College Graduate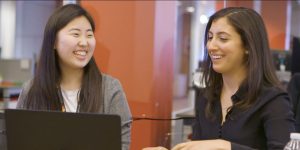 Offered in three-week sessions during academic recess (January in DC & New York and May in Chicago & Miami), Sprinternships™ cannot operate without continued partnership from leaders in the industry.
Recruitment for Sprinternship™ hosts in New York and DC begins in the spring, and recruitment for Sprinternship™ hosts in Chicago and Miami begins in the fall. Interested, but missed this year's window? Our team is ready to hear from you in every season.
Read about Sprinternships™ in the ACT Report, OpenCampus, and the Wall Street Journal.
Interested in getting involved? We'd love to hear from you.