Inspired by the World (and the Web) Around Her: Macaulay Honors College Alum Annmarie Gajdos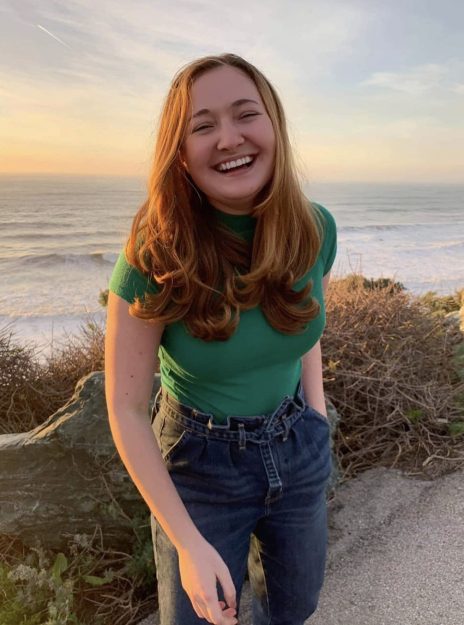 Follow Annmarie's journey through tech as she from Break Through Tech and beyond.
CUNY Graduate from Macauley Honors College at Baruch and Break Through Tech New York Program Alum
Written By
Lena Rose, National Communications Intern
Young Women Shaping the Future of Tech Series
Annmarie Gajdos has always been an enthusiastic learner. A New York native and Slovak-American first-generation immigrant, she was raised in Staten Island, where she was the valedictorian at her middle and high school. Although she did well in school, with her best subjects being math and writing, her professors never encouraged her to pursue technology. Luckily, with her family's support, Annmarie eventually found her own way into the tech sector and went on to study at Macaulay Honors College at Baruch, with double majors in Computer Information Systems and Management of Musical Enterprises, and minors in Business Law and New York City Studies. In 2020, she was named the class valedictorian and spoke at Baruch's graduation ceremony.
Even at this early point in her career, Annmarie holds an incredibly diverse background of experience and has been recognized for her astounding achievements. Her first job was as a Delivery Assistant for AIESEC, the world's largest youth-run non-profit, where she helped international interns process visa paperwork for their arrivals to the States by using technology to analyze program data. Later, she worked in the entertainment sector, specifically at Turner Broadcasting, Elvis Duran and the Morning Show, and Atlantic Records. In 2020, she was named as a Grace Hopper Conference scholarship recipient, where she was celebrated as an outstanding woman in tech, and on-campus, Annmarie received the Selma Brenner award to recognize her excellence in computing.
Throughout college, Annmarie spent much time volunteering abroad. She has traveled to more than ten countries, including Thailand, Sri Lanka, Israel, Ecuador, and Puerto Rico, learning about the stories of the people who live there and the unique facets of different cultures. In meeting people from all over the world, Annmarie was inspired to use her technical skills towards a role where she can examine the relationship between cybersecurity and international affairs and, specifically, how those fields shape and influence the legal rights of migrants. At the Central Intelligence Agency's Summer Symposium in 2018, Annmarie was offered the ability to present her cybersecurity research to multiple intelligence officials.
Annmarie has been part of Break Through Tech since the beginning. In 2016, she participated in Break Through Tech's pilot Summer Guild program, back when it was formerly known as Summer Studio, jumping at the opportunity to "try something new and build [her] technical skill set." She also took part in Break Through Tech's first Build-a-Thon (2017), the Career Access Program (May 2017 to January 2018), and a Sprinternship with Turner Broadcasting (2018).
"Break Through Tech has completely transformed the way that I imagined my career path…Participating in numerous Break Through Tech programs encouraged me to continue with my Computer Information Systems courses, even when the road was tough. I often felt alienated in my male-dominated classes, but Break Through Tech kept me motivated and reminded me of how powerful it is to be a woman."
Annmarie's experiences with Break Through Tech introduced her to a plethora of new ideas and possibilities. Summer Guild was Annmarie's first introduction to design thinking; it was a place where she could think outside the box and prototype her ideas into real-life objects. In Summer Guild, Annmarie had the opportunity to let her "imagination roam freely." During the program, she worked in a team setting and strengthened the interpersonal skills that she would continue to call upon throughout her college career. Through the Sprinternship, Annmarie was given a glimpse into the different areas of technology and how they could apply to any field she chose.
"Due to the constant resources that Break Through Tech provided me throughout my collegiate career, I was able to keep learning and conquering new challenges."
When asked about her most memorable moments from Break Through Tech, Annmarie names the multitude of experiences where she could connect with her fellow cohort members. Entering a large CUNY school with 18k+ students was frightening, she describes, but the Summer Guild program allowed her to meet and later recognize familiar faces in her classes. "These women were people I could lean on as we navigated our careers in technology, struggling with difficult classes and our hectic schedules. We shared opportunities with one another and served as each others' cheerleaders. Watching other women in tech succeed inspired me to keep working towards my goals."
In looking back, the biggest lesson that Annmarie learned was the importance of community and the role that a strong support system plays in shaping one's development. Now, she encourages other women to apply for the Break Through Tech programs. "No matter what career path you are currently considering, take the risk and apply for a Break Through Tech program. You have nothing to lose but so much to gain. The skills I learned through Break Through Tech helped me grow both professionally and personally."
Like many women, Annmarie faced adversity as a woman in tech because of the frequent perception that women are "too emotional." It wasn't until 2020, the year of Annmarie's graduation, that she began to celebrate her achievements. Now, she shares advice to help other young women feel confident in their paths and choices.
"Never stop believing in yourself or your abilities. If you want to do something, do it. If you want to achieve something, make a plan of action. No dream is too big or too small. But also be patient with yourself. From failure, comes growth. Not every opportunity is meant for you, but that doesn't mean that you should stop trying. One rejection doesn't indicate that you can't achieve your life goals. Take a deep breath, recoup, and find a new way to make that dream a reality."
Today, Annmarie is proud of herself for living fearlessly and working every day to be a better person. Break Through Tech and the people she met through it showed her the ability to connect with others is a strength that will help in both her personal and professional journeys.
"Break Through Tech is so much more than the professional experiences it offers women; it's a community of strong independent women who constantly fight to advance gender inequality in their lives."
In 2021, Annmarie has continued to deepen and expand her experience in the tech sector. As a Communications Coordinator for Integrity Senior Service, she works on the agency's Cybersecurity team and provides referrals for individuals dealing with mental health crises during the pandemic. She is also an Amazon Web Services We Power Tech grant recipient for 2021. Outside of school and Break Through Tech, Annmarie co-hosts a podcast, Room 3228, and advocates voting accessibility as a NYC Votes We Power New York City Ambassador.
As demonstrated by the variety of interests, her goals are not limited to one field. Moving forward, Annmarie hopes to pursue law school so that she can use her work to mitigate discrimination in technology. Eventually, Annmarie has her sights on pursuing international human rights law to become an international affairs and technology expert. In her spare time, she hopes to become a pro bono legal consultant in the entertainment industry. She also intends to work on global-centered projects to enhance cultural awareness, specifically in the Middle East.
We're excited to see what Annmarie will accomplish on her journey in tech as she continues to champion the representation of diverse identities in the tech sector. To keep up with Annmarie, you can follow her on social media via her handle: @annmariegajdos.