Breaking The Cycle of Self-Doubt: John Jay College Student Aaliyah John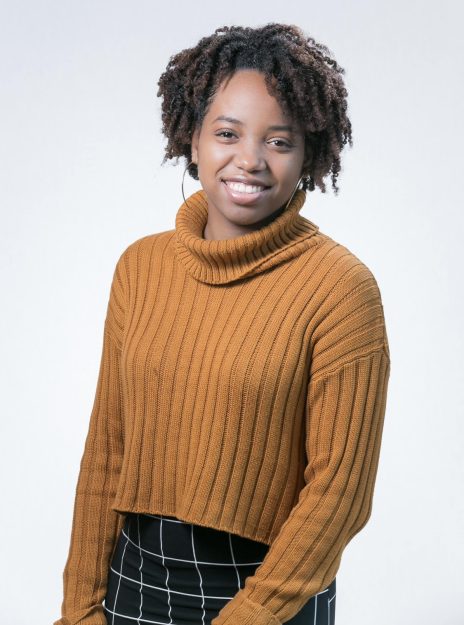 As part of the "Young Women Shaping the Future of Tech Series," CUNY undergraduate at John Jay College of Criminal Justice and Break Through Tech New York program alum, Aaliyah John, shares her journey into tech.
CUNY undergraduate at John Jay College of Criminal Justice and Break Through Tech New York alum
Written By
Lena Rose, National Communications Intern
Young Women Shaping the Future of Tech Series
Though she was born in Staten Island, Aaliyah John spent much of her life growing up on the Caribbean island of St. Vincent and the Grenadines. When she moved back to New York for college at 18, she exercised her love for mathematics and coding by pursuing a degree in Computer Science and Information Security with a minor in Cybercrime at CUNY's John Jay College of Criminal Justice.
Aaliyah's passion for criminal justice was passed down from her parents, who currently work in the field. John Jay was the only program where she could combine her love for Criminal Justice and Computer Science, and she knew that this would be the perfect program for her. During her first year of college, she received an email about Break Through Tech and was immediately enthralled by the mission of achieving gender equity.
"I am very passionate about diversity in Tech and as I became more exposed to the 'tech world,' I realized the lack of women in technology all over the world, especially women of color."
In recognizing the gender and racial inequity of tech, Aaliyah set out to become a role model for other young women who look like her in the hope that these young women will no longer be intimidated by a male-dominated field.
During Break Through Tech's programs, Aaliyah networked with other women in tech, improved her technical and soft skills, and made new friends. She says that "[Break Through Tech] confirmed that I do have what it takes to be a successful professional in tech." Although the 2020 Sprinternship® that she participated in with Cognizant Softvision was just three weeks, it "opened so many doors" for new opportunities, such as the CUNY Tech Prep and even her upcoming Summer Internship that she accepted at American Express.
In recalling the 2020 Sprinternship®, Aaliayh mentioned that those three weeks would "forever be etched in [her] heart" and attributes Feizza, Hope, and Shariya as key people she is thankful she got to know personally. Not only did the program help her overcome her "Imposter Syndrome," but it instilled some lessons in her that continue to follow her as a young professional in the tech industry. For example, she learned how hard she was on herself when things didn't go according to plan. Realizing how she needed to adopt a more "glass half full" perspective, she takes everything as a learning experience. Aaliyah also recognized Break Through Tech's emphasis on relationship building throughout the Sprinternship®. With the help of Alex, Ruxandra, Shelby, and Bogdan, Aaliyah and her team created a functioning application that exceeded expectations.
Aaliyah is inspired by all the women in tech who persevere in the face of adversity, but she notes her parents as being the people whom she most admires. "They have been my rock," she says, and both have been instrumental in influencing her path in tech in different and equally important ways. She hopes that one day, she will be able to try and repay them for the innumerable sacrifices they made for her.
When Aaliyah moved to New York three years ago—and in saying goodbye to her home in St. Vincent—she was unsure what the future had. She doubted that she had what it took to succeed in tech and sometimes struggled to communicate her thoughts effectively. Now, as a third-year student about to pursue a summer internship at American Express, Aaliyah is proud of how far she has come.
From making Dean's List every semester to accumulating more bullet points on her resumé, she continues to shatter glass ceilings, especially as a woman of color. Hoping that other young women are empowered through programs and people as she was, she wants to tell others to "go for it" and "seize the opportunity" because, whoever you are, you belong in tech.
We're excited to follow Aaliyah in her journey as she continues to champion the representation of diversity in the tech community.