Allie K. Miller Energizes our Student Community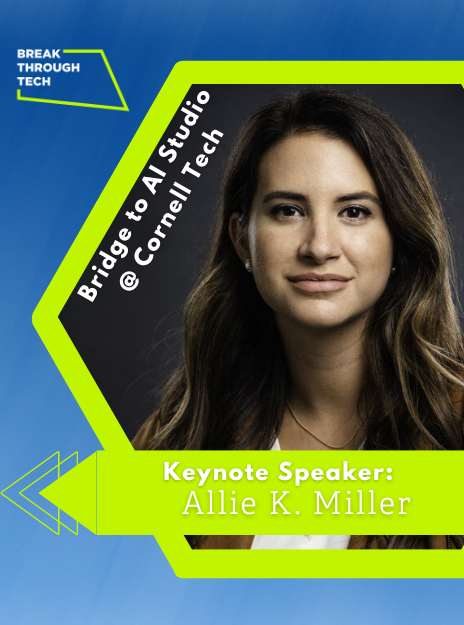 This August, we were thrilled to welcome more than 500 exceptional women and non-binary college students from 36 universities nationwide to our Bridge to AI Studio event at Cornell Tech in NYC. Their experience was enriched by the presence and keynote address of an extraordinary voice and a foremost authority on Artificial Intelligence: Allie K. Miller.
We had high expectations for @AllieKMiller's keynote. As so many of you know, Allie is legendary not just for her experience in Artificial Intelligence but also for her pioneering and influential approach to sharing and explaining the implications of this technology in simple and impactful ways.
It is quite the skill to make a subject like Machine Learning entirely relatable, providing important learnings and making it entertaining all at the same time. And that is exactly what she did for over 500 women and non-binary students participating in the Break Through Tech AI program, now the largest program of its kind in the United States, training diverse college women in data science, machine learning, and artificial intelligence.
In addition to sharing some of the use cases she has worked on deploying AI across multiple industries, Allie found best practices in every single one and how each challenge will help inform students' approach to the next one they tackle.
As you can see from this short video, the diversity and enthusiasm in the room were palpable.
Allie shared the following fundamental principles and advice to guide decisions when working on ML projects (which interestingly apply to all of us!)
Culture is everything – consider culture the foundation. Be sure to learn the company's culture and ask everyone on your team. Among other things, are they first movers?
Goals – Be sure to understand each of the team goals and the purposes of the product you are building, and always ask yourself: What could go wrong?
Who is making decisions? – Always know who this person is and their relationship with the team you're working with.
Constraints – issues like budget, timeline, bottlenecks, and collaborators, ensure you know what those challenges are and how to work through them. Ask what people's arguments are against this.
Choices and Trade-offs – a reminder that whatever you say yes to means saying no to something else—trade-offs like state-of-the-art performance vs. speed. Ask yourself what is the risk of a wrong decision.
Finally, students made copious notes on crucial advice she wished someone had shared with her in the early days of her career, which she calls "The ML Explorer Mindset."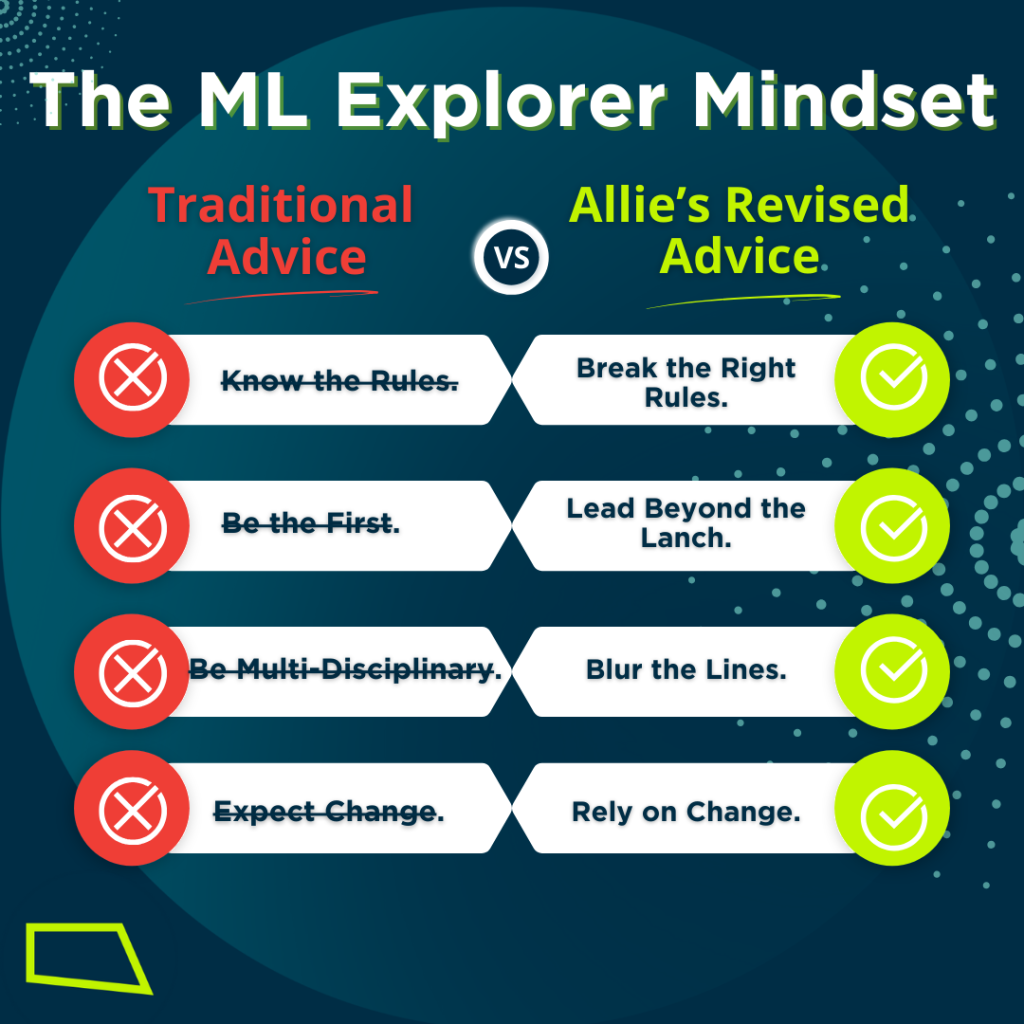 We are grateful for Allie's contribution to our understanding and appreciation of the opportunities around this technology.