Overcoming Challenges and Change in the Philippines and the U.S.: Hunter College Student Kyra Alyssa Chu Abbu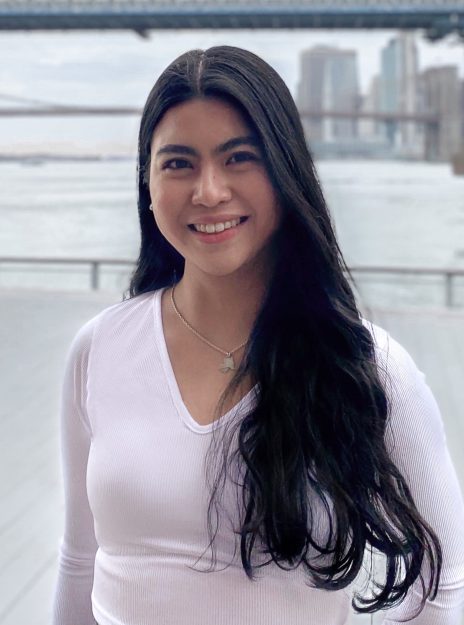 As part of the "Young Women Shaping the Future of Tech Series," CUNY undergraduate at Hunter College and Break Through Tech New York program alum, Kyra Alyssa Chu Abbu, shares her journey into tech.
Kyra Alyssa Chu Abbu
she/her
CUNY student at Hunter College; Break Through Tech NY alum
Written By
Lena Rose, National Communications Intern
Young Women Shaping the Future of Tech Series
Kyra Alyssa Chu Abbu is a junior at Hunter College (CUNY) participating in the CUNY Baccalaureate for Unique and Interdisciplinary Studies Program, an individualized degree program for self-directed students across all CUNY schools. Through this program, she studies Computer Science: Public Health Data Science and Cognitive Science.
Kyra spent much of her life traveling while also studying and competing academically in the Philippines. She was born in Cagayan de Oro, raised in Valencia City, and, for most of her early life, ventured to regions such as Singapore, Hong Kong, and Thailand while relishing an affluent life.
When she was thirteen years old, however, her family faced financial distress and moved to Union, New Jersey, to stay with her relatives. As they were new to the U.S., Kyra and her family worked month by month to afford a larger living space while Kyra also kept up with school. She attended high school in NJ, where she would graduate at the top of the 588 students in her class. Kyra's high school graduation would be an incredibly emotional moment for her and her family, especially because she had been accepted as a Daedalus Scholar at Hunter College.
Kyra's first job was in her junior and senior years of high school, where she served as an assistant copy editor for Worrall Media. However, when it was time to think about college, Kyra felt unsure of what to study. She felt that her life in the Philippines hinted that her only path could be in medicine, law, or accountancy.
It took her some time to recognize her true path to computer science and tech. Although Kyra participated in the NYU Summer Math Program, attended Columbia University's Python Bootcamp, built three websites for her high school clubs, and took computer science courses at her local community college, she "completely ignored the fact that [her] entire high school career was filled with computer science." Computer Science had always been her father's dream, but obstacles such as the cost of learning and a lack of college opportunities had prevented him from pursuing it. It wasn't until Kyra's time at Hunter College that she would recognize that Computer Science was her dream as well.
Hunter College was the only school where Kyra had applied to solely study computer science. All of her other applications had been for business-related majors. Luckily, she was "cherry-picked" for the Daedalus Scholars Program at Hunter, one of only two students who did not graduate from a New York high school.
When she began college at Hunter, Kyra originally was set on pursuing computer science and finance. At that point in her life, she hated change because she lived through so many of them and just wanted to spend her next four years on the path to fintech. However, she soon realized the value that arose from being able to divert from her chosen path.
"I began reflecting on the life I have lived—the opportunities that never landed on my lap for living in a developing country and the struggles of being a first-generation immigrant hidden under the model minority myth."
"I developed a mission to guide those who are living and will live through similar struggles and I saw that Break Through Tech was an avenue I could take."
In January 2019, Kyra participated in a Sprinternship® at the Society of Women Coders and has been part of Break Through Tech ever since. She also interned at RubiconMD in 2020, which eventually led to a data science internship the following summer.
Kyra's experiences in Break Through Tech taught her the importance of speaking up, asking for help when you need it, and doing what makes you happy. She says, "don't fake it until you make it; face it until you make it." Kyra still has much of an educational journey ahead of her; she hopes to become published, pursue higher education, and teach as an adjunct professor at CUNY to share her experiences with future CUNY students. On a more personal note, Kyra strives to improve the quality of education in her hometown in the Philippines and improve access to quality healthcare.
Kyra aspires to become a technical product manager or data scientist in the healthcare industry after college. After experiencing how difficult it can be to access high-quality care firsthand in the Philippines and the U.S., she hopes to increase access to proper healthcare for the underserved and eliminate barriers enacted by race, language, and unfamiliarity with the system. "This aspiration is an outcome of my family's personal struggles. Although we lived an affluent life in the Philippines, it was undeniably difficult to access high-quality care not living in the big cities." Kyra intends to become a Chief Technology Officer at a healthcare start-up to further this mission in the long-term future.
When asked who or what most inspires her, she answered her parents and recalled them always supporting one another. In the Philippines, when her mom had her, her dad looked for ways to make up what her mom could not do. When they moved to the U.S., her parents always ensured that someone was at home to care for her. "There was never a time that they told me I could not do something because I am a woman, because I am Asian, because I am an immigrant, because I am Filipino, despite the societal expectations of the Philippines and the atmosphere they were born and raised in. To them, I am always capable and I find my strength in them." As it is clear that Kyra's parents have played an enormous role in her development and success, she would one day like to give back by purchasing a house for them.
A lover of learning, Kyra's educational journey is extensive but far from over. We're excited to follow Kyra on her journey as she makes her mark as a first-generation immigrant and woman of color in tech.