Redirect Your Support to the Community: Break Through Tech Alum Rina Schiller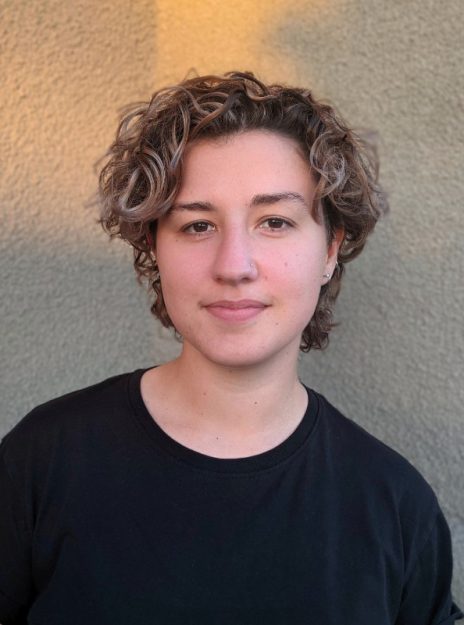 Rina Schiller, a current tech professional and former Break Through Tech New York participant, shares their tech story.
Software Engineer at TargetSmart; Computer Science Masters from Cornell Tech; CUNY graduate of Hunter College; Break Through Tech New York alum
Written By
Lena Rose, National Communications Intern
Rina has already accomplished a lot in their tech career.
In May 2017, Rina graduated from CUNY Hunter College, majoring in Digital Media with minors in Computer Science and Women and Gender Studies. Three years later, Rina would complete a Master's of Engineering in Computer Science at Cornell Tech.
Rina's first experience with tech was the winter of their sophomore year at Hunter when they received notice about an Intro to Programming course. With help from their peers, Rina accomplished their first coding class and eventually landed a software development internship at AOL the following summer. Though Rina was interested in technology prior to Break Through Tech, they were not wholly confident that they had the ability to thrive in the field. After participating in the Break Through Tech programs, Rina found a supportive community of other coders.
"For the first time, I met other developers that had similar fears and aspirations. And we could work through them together."
Rina recalls the most memorable moments being the Technical Interview Prep that they organized at Cornell Tech as a Break Through Tech fellow. Specifically, Rina was inspired by the idea of Master's students helping undergrad students in their career development. "It was a real full-circle moment for me because we invited all of the Break Through Tech members in CUNY undergrad schools." Seeing others in a position that they were once in left an impression on them that further strengthened a commitment to uplifting others.
Currently, Rina is a Software Engineer at TargetSmart, a democratic political data company, where they implement their technical skills towards a mission that they are passionate about. "I love that I'm able to combine my passion for technology, politics, and social good in a job that I can make a positive impact on the world." As many have previously mentioned, Rina notes that none of their accomplishments could have happened without Judith Spitz, founder of Break Through Tech, and Judith's determination to accelerate gender equality in tech.
A few years ago, Rina never expected to have a Master's degree in Computer Science, nor did they think they would have the capability to code full-time as a career. Now, Rina plans on becoming a CTO and lead the technical wing of an organization. As a tech professional, Rina wants younger students to know that no one is perfect at anything right away; things take time and effort to learn. In the words of Reshma Saujani, founder of Girls Who Code, "be brave, not perfect."
Rina ends by saying that "it doesn't matter if you don't get everything in the beginning. What matters is that you are passionate and work hard to accomplish your goals. Passion and perseverance is way more important than perfection."
Rina has already accomplished so much in their career, and we are confident that they will continue to break barriers.