Break Through Tech in 2022: Year in Review
Break Through Tech in 2022: Year in Review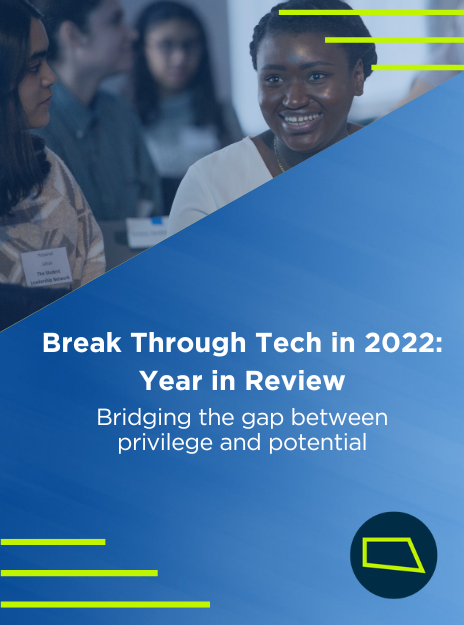 2022 was a very productive year for Break Through Tech. Both for our students and the organizations that partnered with us to bring our computing and AI programs to life.
Our mission is to propel more women and non-binary students into tech education and careers. We focus on welcoming Black, Latina, first-generation college goers, and low income students into tech. Virtually every employer with a 'diversity in tech' goal claims to want to hire them. However, the reality is that 98% of women, and 99% of these women, in particular, are pursuing degrees in computing at colleges and universities outside of the top 25 ranked in the US. And while their potential is enormous, somewhat paradoxically, these students are often overlooked and underestimated by talent recruitment efforts – because companies don't have relationships with the colleges and universities they attend and because their resumes don't include the credentials that come with the privilege of free time to pursue unpaid activities.

Break Through Tech is positioned at the intersection of industry and academia to fund, develop and deliver innovative programs and solutions that bridge these underserved students with employers. Our goal is to bend the curve toward gender equity in tech.
Students gain skills, applied experience, internships, and other portfolio-building credentials, and industry partners gain access to the prepared, diverse tech talent pool they are looking for. This powerful win-win model helps level the playing field for our students and helps companies achieve their diversity-in-tech objectives.
No one can tell our story better than our students. Please take a moment to meet: Jada from Miami, Miriam from New York, Charlotte from Chicago, Neha from Washington, DC, a wonderful team of students in Maryland, and many more of our students and their stories.

BY THE NUMBERS:
Over the past five years, we've invested over $30M in academic partnerships and programming in New York at Cornell Tech and CUNY, in Chicago at University of Illinois Chicago (UIC), in DC at George Mason University (Mason), and University of Maryland College Park (UMD), in Boston at the Schwarzman College at MIT, in Los Angeles at the Samueli School at UCLA, and in Miami at Florida International University (FIU). And we are now launching a virtual option for our AI program to reach more women and non-binary computing students outside of those six markets.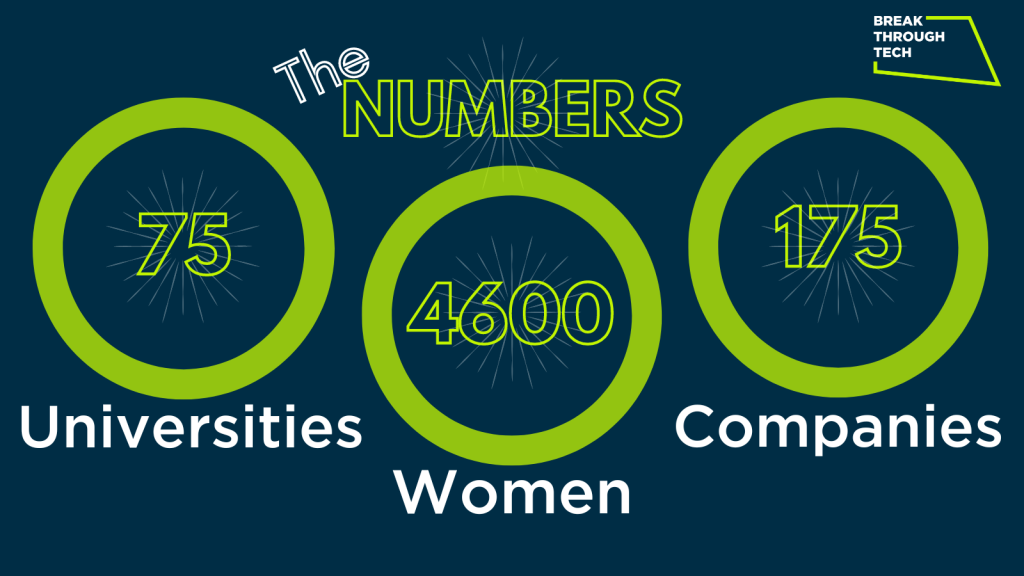 To date, 4600 women from 75 universities have participated in our programming; 60% – 70% are Black, Latina, Native American, first-generation college goers, or low-income.
175 companies, from startups to Fortune 10 firms, have partnered with us to get access to and to deliver high-quality experiences for our students.
CUNY, UIC, Mason, and UMD all grew the share of women in computing majors. Driving these gains is the growth of new computing majors, new introductory course pathways, and targeted marketing and outreach efforts to showcase the opportunities for women considering tech careers and the value of being part of our community.
94% of the students who completed our pilot AI/ML Program in New York successfully landed a summer internship or full-time job in tech, including roles in AI Research, Analytics, Data Engineering, and Data Science.
The AI Program expanded nationally, increasing student enrollment by 4X. In New York, our biggest cohort, 73% of the students were Black, Latina, first-generation college goers, or from low income backgrounds.

STRATEGIC NEWS:
The step before an internship; a spotlight on our Sprinternship™ program as a scalable, effective strategic innovation in diversity in tech hiring.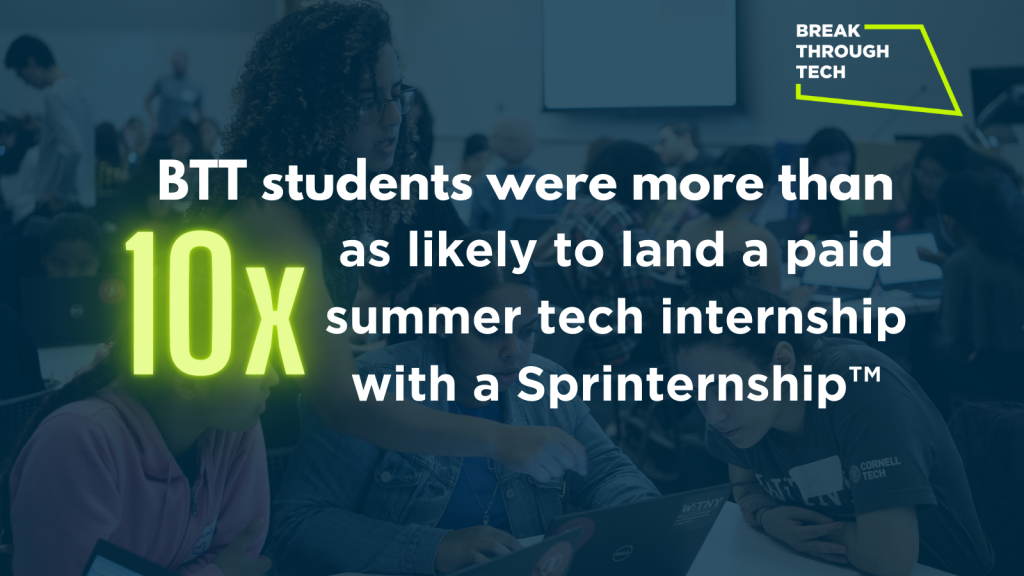 Sprinternships™ allow companies to broaden the aperture of their recruitment efforts, rethink their recruitment strategies, and open a new pathway into their organization. This year, we published a report summarizing five years of data, including results for over 1200 Sprinterns (all students that recruiters typically overlook) and over 125 employers. The bottom line shows that these students were more than ten times as likely to land a paid summer tech internship with a Sprinternship™ on their resume than without and that 80% of the students who applied for a paid summer internship at their host company were offered one. Since we know that landing one or more summer internships nearly doubles a student's chances of getting a job within six months of graduation, we know that this innovative experience changes the trajectory of students' lives. This program was spotlighted in the New York Times, Crain's New York Business, Work Shift, and a Center for an Urban Future report. Break Through Tech is now establishing strategic partnerships with individual companies, like American Express and others, to customize this program as part of each organization's tech talent recruitment strategy.
This year nearly 400 students completed a Sprinternship™ at 53 host companies. 76% of our Sprinterns received an offer for a paid summer internship – up from our average of 59% over the past six years (and up from 5% without the Sprinternship™ on their resume).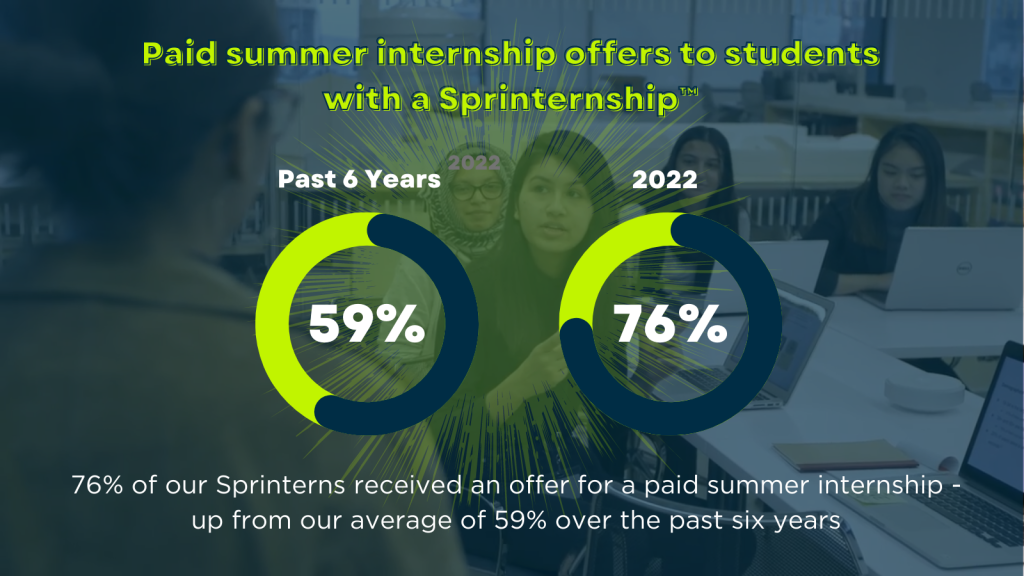 Our AI program takes off in New York, Boston, and Los Angeles – using an innovative hub-and-spoke model to remove barriers between high-tech academic talent and high-potential underserved students.
"The scarcity of AI talent is a problem of our own making," said founder Judith Spitz, "and is, therefore, a problem we can solve." Break Through Tech is on a mission to do just that. Our goal is to credential and fast-track undergraduate women into careers in the fastest-growing areas of tech: data science, machine learning, and artificial intelligence – leveraging the academic capabilities of some of the country's most 'elite' universities.
Developed with industry leaders, the Break Through Tech AI Program includes three high-level components that are considered critical for increasing the competitiveness and marketability of students pursuing AI/ML engineering roles: (1) skills-based training, (2) industry-relevant portfolio development, and (3) mentorship, career coaching, and job placement support.
After completing our pilot program, our students landed summer internships or full-time tech jobs at companies including Accenture, American Express, Bank of America, Blackstone, Facebook, Goldman Sachs, JPMC, KPMG, LinkedIn, Merck, Microsoft, NASA Ames Research Center, Salesforce, Slalom, and more.
This year we significantly expanded this program, and it now includes three top-ranked 'hub' universities – Cornell Tech, the MIT Schwarzman College of Computing, and UCLA's Samueli School of Engineering – offering the program to students from 'spoke' universities in the surrounding metro ecosystems. 2022's cohort hail from 56 different colleges and universities.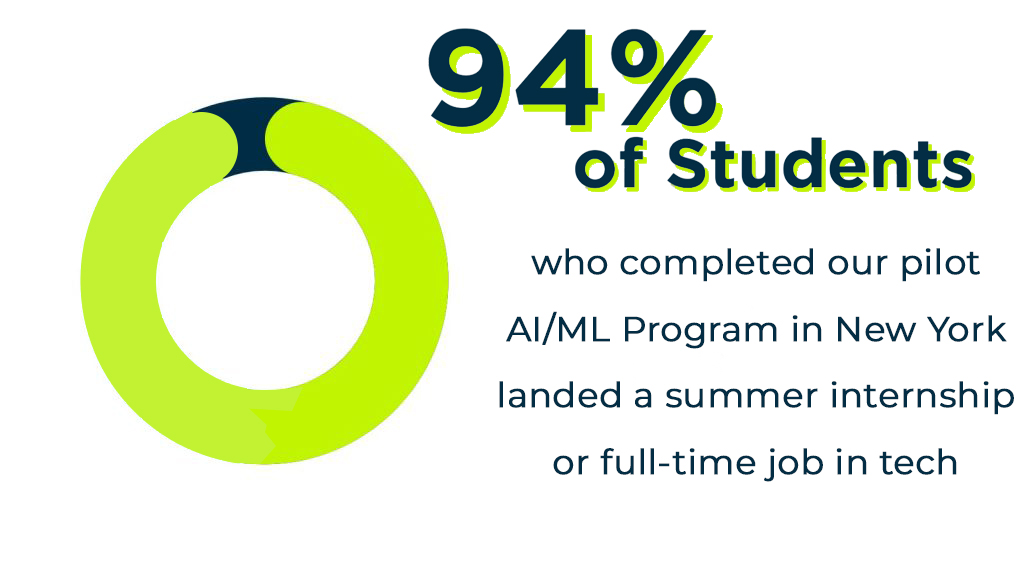 In addition to programmatic growth, we redesigned our Machine Learning Foundations summer course in collaboration with a Curriculum Committee of subject matter experts from industry (ASAPP, Google, Meta, Splice, and Verizon) and academia (Cornell, CUNY Hunter College, Howard, and UPenn). We are also excited to share that we have developed and piloted an innovative career readiness curriculum delivered through a structured mentorship program with young professional industry mentors.
Here's to a year that celebrates and develops diverse college students' potential, regardless of their privilege, and accelerates even more of them into careers that can change their lives — and ours.
Connect with us on Instagram, where we continue to introduce these young people, and on LinkedIn, where we publish news and stories about how we strive to do right by them.