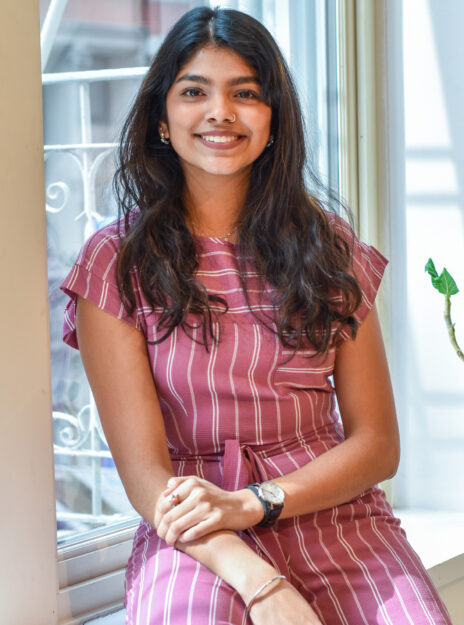 Learn why Radhika Kalani is motivated to leverage tech to change people's lives.
CUNY Graduate from Baruch College and Break Through Tech New York Program Alum
Written By
Lena Rose, National Communications Intern
Young Women Shaping the Future of Tech Series
Radhika Kalani has always had a passion for technology.
Born in Jaipur, India, and raised in Queens, her curiosity about technology was present early on in her life. She took a Digital Electronics class in high school, which ultimately sparked her continued commitment to the technology sector. Now a recent Computer Information Systems graduate from Baruch College, Radhika utilizes her undergraduate career experiences to pave her way into the industry as a woman of color.
Radhika heard about Break Through Tech during her first year at Baruch College and has been actively involved ever since. She pursued two Sprinternships (formerly Winternships), one in 2018 with Verizon and another in 2019 with Blackstone. Since then, she has gained the confidence to continue pursuing a career in technology.
The Sprinternship Program taught her how "to work in a business environment early on, network, gain tangible experience, and familiarize [herself] with different industries." With the help of Break Through Tech, she was able to gain experience early on in her college career.
Through her experience with Break Through Tech, Radhika realized the importance of networking and outreach; she currently sets aside two hours each week to reach out to folks struggling with finding their space in the technology realm.
What stood out to me about [Break Through Tech] was the emphasis on design thinking and product development; it wasn't a typical coding boot camp.
"…I enjoyed learning the thought process that goes into building a product from scratch. The design thinking workshops led me to realize I could pursue a career in tech that didn't require coding."
As a future technologist, Radhika intends to pursue a career in consumer products and wellness technology. She is excited about the future of the wellness sector particularly: "I believe the wellness space is finally getting the attention it needs and deserves," asserting that technology has the power to improve people's lives.
She also is excited about advancing gender equity in tech; "in 5 years, I know the sight of women of color in tech will not be rare. There will be an abundance of us since the future is female."
Currently, Radhika is working on creating a non-profit organization called Global Girlhood, which will allow women to connect with folks worldwide using technology. Technology has undoubtedly played a crucial role in Radhika's life, and she hopes to share her positive experiences and passion for technology by sharing knowledge and opportunities with all available.
Looking back on her experiences with Break Through Tech, Radhika attributed Judy Spitz, the founder and Executive Director of Break Through Tech, and Maria Dikun, one of Break Through Tech's first hires, as people who helped her tremendously. Not only did they provide a safe space for her to grow and develop her skills, but they believed in her throughout her career endeavors.
Radhika emphasizes the importance of having a supportive community to help you through. Even outside of Break Through Tech, Radhika had a support system through the CUNY tech community. She acknowledges Melissa Chan, a colleague with whom she had interned at Verizon, as well as Charusmita Mada, who she worked alongside while serving as Vice President of Femcode at Baruch.
Amidst the pandemic, Radhika offers valuable advice for de-stressing from work. For one, she loves to use calendars to plan out her schedules. She also embraces a nightly routine to designate specific amounts of time towards certain tasks and makes sure to give herself some downtime before bed. "I'll shower, make myself a cup of tea, read a book, and journal. This allows me to be more present and create a safe space for myself to think and be with my thoughts." When it comes to self-care, the most crucial tip that Radhika mentions is listening to your body and prioritizing your mental wellness.
We're excited to follow Radhika on her journey as she continues to champion the representation of diverse identities in the tech sector.