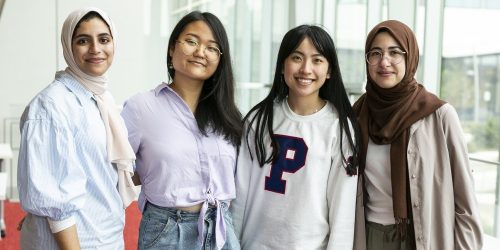 Our win-win model helps companies achieve their diversity-in-tech objectives and helps to level the playing field for undergraduate women and non-binary students from diverse backgrounds so they can break into careers in tech.
Our innovative programs and solutions provide students with skills, applied experience, internships, and other portfolio-building credentials. We offer industry partners access to the prepared, diverse tech talent pool they seek. At Break Through Tech, we understand that staying competitive in today's economy means having access to the best and brightest minds. We act as a programmatic intermediary helping employers fill their early career talent pools with more female and non-binary candidates from diverse backgrounds.
The Sprinternship™
Our signature program is the Sprinternship™ – a must-have, three-week experience for any company serious about staying competitive. Host a team of five Sprinterns™, who will work collaboratively to tackle real business challenges posed by your organization.
What is required of our industry partners? Read more here.
Watch this video to learn more about the experience of our most recent Sprinternships™ in January.
More on the Sprinternship™ and how to get involved
AI Studio
AI Studio is the experiential learning component of Break Through Tech AI, an extracurricular program that helps women, non-binary, and underrepresented college students – with a focus on welcoming Black, Latino, Indigenous, first-generation, and low-income undergrads – gain the skills and experience they need to get jobs in data science, machine learning, and AI.
Watch this video from our Spring 2023 AI Studio kickoff event at Google HQ in New York City.
More on AI Studio and how to get involved
Explore Industry Partners