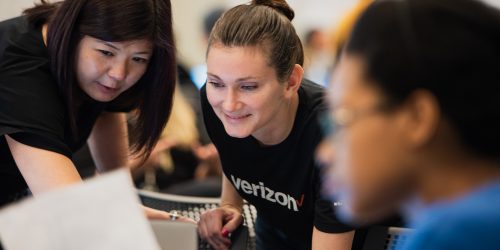 Break Through Tech x Verizon
Overview of Program

The Break Through Tech Sprinternship™ in partnership with Verizon is a virtual, full-time (40 hours per week), paid micro-internship program that takes place during your college's academic break (January or May).
Upon successful completion of the Sprinternship™, students should be willing to participate in a 10-week hybrid summer internship with Verizon.
From internships and co-ops to leadership development programs and entry-level roles, Verizon's award-winning Campus program allows you to take the next step toward shaping your future. Verizon's Campus program has been recognized with awards like WayUp's Top 100 Internship Programs and RippleMatch's Campus Forward Award.
The Sprinternship™ program will be offered in two cohorts noted below and are scheduled based on your college's specific academic calendar. Please note that this program is only available to Sophomores and Juniors and only for select colleges.
January Program for Juniors (2+10):
Sprinternship™ : January 2 – 12, 2024 – 2 Weeks
Internship (pending offer from Verizon): June 3 – August 9, Summer 2024 – 10 Weeks
May Program for Sophomores (3+10):
Sprinternship™ : May 13 – 31, 2024 – 3 Weeks
Internship (pending offer from Verizon): Summer 2025 – 10 Weeks
How it Works
Work full-time as a virtual Sprintern on a team at Verizon.
Work collaboratively with 3-5 student Sprinterns™ from other colleges on a "challenge project". The project parameters and expectations will be determined by Verizon.
Get Paid by Verizon
Additional Opportunities

Eligible students who successfully complete a Sprinternship™ with Verizon will have the opportunity to participate in Verizon's 10-week hybrid summer internship program.
Prior to the Sprinternship, Break Through Tech provides participants with virtual technical and career prep workshops to help position students on a path to success. These workshops are highly encouraged to help prepare students for technology-related internships.
Inside the Program
Prep Workshops
If this is your first time working in a tech office, we have you covered. We will prepare you for your Sprinternships™ through workshops that cover resume writing, making a great elevator pitch, professional goal-setting, understanding organizational culture, working in teams, tech project management, and common software tools. These workshops are scheduled for a few weeks prior to your first day at Verizon.
Sprinternship™ Challenge Project
Your team will receive a challenge project to work on throughout your Sprinternship™. You will have the chance to collect background information, size up the problem, come up with a creative solution that uses technology, and pitch it to the leadership team.
Immersion into Verizon
You will be welcomed as a full member of the Verizon team. Knowing about the inner workings of a business or organization can help you think about the career paths that might be in your future. You will meet with various internal departments within Verizon and learn about what people do and how they work together.
After the Sprinternship™
Eligible students who successfully complete a Sprinternship ™ may receive an offer to participate in Verizon's paid summer internship.
Submit Your Application
Looking for more information? Join a Sprinternship™ Info Session.
Apply Today! The deadline to submit your application is October 15, 2023